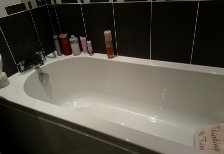 I have written extensively about magnesium and how to choose the best magnesium supplement. But it completely slipped my mind to write about the uses of magnesium sulphate (or magnesium sulfate), as my friends in the USA would know it.
If you'd like the technical explanation of magnesium sulphate, it's here, on Wikipedia, where you will read, among other interesting information, that it's a chemical compound containing magnesium, sulphur and oxygen – commonly known as Epsom Salts.  The name arises because the salt was produced from a spring from the town of Epsom in Surrey, England.
Uses of Magnesium Sulphate
I was reminded of the health benefits of Epsom Salt by an excellent blog post that I recommend you to read in full. Quoting the key message:
Studies show that we can increase our Magnesium levels by soaking in EPSOM SALT BATHS.  Source acknowledged with thanks
The post above explains the health benefits you can get, so simply, by having a good soak in an Epsom salts bath.
The relevance of this to my Hair Mineral Analysis blog is that most of the reports I see for clients show a magnesium deficiency relative to other minerals, particularly calcium.  As magnesium is readily absorbed through the skin, an Epsom salts bath is a nice relaxing way to increase your magnesium exposure.  It can also soothe aches and pains.
In a scientific trial conducted at Birmingham University on absorption of Epsom Salts through the skin tests showed that magnesium was absorbed through the skin and that, unprompted, a couple of subjects in the trial found benefit from rheumatism pains.  While that was an anecdotal side-effect and not enough to start claiming a rheumatism cure, this suggests that it is an inexpensive and natural treatment for rheumatism that could be well worth trying.  (Dr Rosemary Waring – the scientist in charge of the trial – is a well-respected scientist that I knew through my time as sub-editor for The Nutrition Practitioner, a professional journal for nutritionists. We always looked forward to what Dr Waring had to say.) 
If you try an Epsom Salts bath and find it helps your rheumatism / arthritis, please add a comment below. It always helps other people who are looking for home remedies to know what has helped other people.
Epsom Salts are not recommended for prolonged use and should not be used if you are suffering from a blocked intestine, kidney complaint or when pregnant / breast-feeding, except on the advice of your doctor.
Another of the uses of magnesium sulphate is the relief of occasional constipation, but it should NOT be given to children with intestinal parasites, such as tapeworm or threadworm.
Wondering if YOU have a magnesium deficiency? Read more about magnesium and how mineral therapy can help your health in my free ebook, here.
As a slight aside – I have to smile at the fact that I spent more minutes than I should have, searching free photo websites looking for a picture of a bath to use in this post, only to remember that I have a perfectly good bath in my own bathroom!
I shall be adding Epsom Salts to it for my next bath
  Obviously I should be spending more time relaxing in that bath, soaking in Epsom salts, instead of the hurried showers I normally take in the shower room.
Category: Supplements
A fully qualified nutritionist since 2000, I prefer to use Hair Mineral Analysis to assess my clients' health needs because it is an objective, scientifically validated method that is tailored to each client's current bodily state.