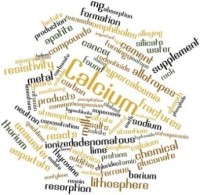 I wrote about the function of calcium, in my previous article which was entitled the Benefits of Calcium.
Part of the contents sparked off some questions, as I knew it would.  Because I was challenging the long-held belief that "the more calcium the better".
I can completely understand that people are concerned about this.  We have been told to drink plenty of milk and eat cheese, to get enough calcium for the health of your bones from baby-hood, through school-days and right through to worrying about osteoporosis in our maturing years.
Then, along comes Joy Healey, with a controversial point of view about calcium and bone health. Why should you believe me?
I don't expect anyone to change their views overnight.  I certainly didn't.  But in the end I had read so much about it, backed up by my 3-year college course – and even by personal experiences after being brain-washed into taking calcium supplements – that I was convinced.
If you have time to do the research yourself, please do so.  Alternatively you may prefer to read my findings when I wrote about this on another site at the time that the UK newspapers were full of it in 2012.
To read my previous articles, click the links below.
I'll admit that the articles are pretty "information dense", so if you're not keen on reading, watch the four-minute video below for a quick summary and another doctor's point of view.
The video promotes a book called The Calcium Lie, and although you probably have no wish to buy the book you may like to read the reviews of people who have read it for more information and independent corroboration of what I've been reporting to you.
Learn more about : The Calcium Lie: What Your Doctor Doesn't Know Could Kill You
As you'll see when you go to Amazon, the book's reviews range from the ecstatic to the derisive, but you can (and should) make your own mind up.
Incidentally, when I clicked over to Amazon there was a recommendation to read The Magnesium Miracle.  I suggest you check that out at the same time.
I hope the resources I've suggested here will help you see that there is plenty of solid research to challenge the old beliefs about calcium, and it's not just some crack-pot idea.  Science and knowledge moves on.  I recall that when I was much younger, there was no understanding that cigarettes were harmful!
Remember, I am not saying that YOU have a calcium imbalance, I am just saying that most of my clients who have HMA tests DO show calcium/magnesium imbalances.  And for those people, calcium supplements are NOT a good idea.
If your doctor has recommended calcium supplementation DO NOT stop taking it without his say-so.  However, why not take a HMA report to show him/her?  Some doctors are open to looking at new research – as you saw from the video above.
To conclude my information on the function of calcium, it is my belief that the most affordable way to check whether you have a calcium (or other mineral) imbalance is to have a Hair Mineral Analysis test. Without having the test everything is just supposition.
If you would like to learn more about having the test, just download my free ebook.  Do it now, before you forget – and please feel free to use the social links right at the bottom, to share my free offer with anyone you know who may find it helpful.
Category: Conditions, Essential Minerals, Hair Mineral Analysis
A fully qualified nutritionist since 2000, I prefer to use Hair Mineral Analysis to assess my clients' health needs because it is an objective, scientifically validated method that is tailored to each client's current bodily state.